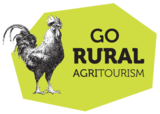 "Lauku labumi" ir dažādu veidu un nozaru saimniecības laukos, kas uzņem apmeklētājus, ļauj iepazīties ar saimniecību, piedāvā savus ražojumus un pārdod produkciju.
"Lauku labumu" saimniecības saviem apmeklētājiem piedāvā izzinošas ekskursijas, degustācijas, amatu demonstrēšanu un meistarklases. Daudzās saimniecībās ir vairākas nozares – piemēram, nodarbojas gan ar lopkopību, gan audzē dārzeņus, ogas, augļus vai ir amatnieki. Visas nozares cita citu papildina, līdz ar to saimniecība apmeklētājiem ir interesantāka, jo piedāvājums nogaršot, iepazīties un iegādāties ir daudzveidīgs.
Neatņemama sastāvdaļa apmeklējot lauku labumu saimniecības ir to saražotās vai izaudzētās produkcijas iegāde - pārtikas produktu, dažādus lauku gardumu, dzērienus un amatniecības darinājumu iegāde.
Te meklējiet pēc konkrētiem ražojumu veidiem: >>> Produkcijas iegāde.