We are a professional rural tourism association established in 1993 and currentlywe have some ~330 members – owners of rural companies all over Latvia. We are members of Eurogites, the European Federation for Rural Tourism.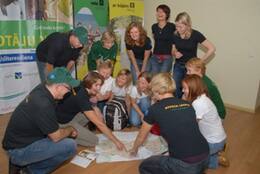 All our staff are passionate outdoor and nature enthusiasts. All our routes and offers are tried and tested by our people. We know personally all our suppliers and have established great relationships with them during many years of cooperation. The company is focussed on small businesses providing a personal touch and detailed local expertise. Importantly, we work with some of the best Latvian birdwatching and nature experts in Latvia. Should you need advice when planning your holidays in the Latvian, Lithuanian or Estonian countryside, ring us up, write us or visit our office in Riga. Should you so desire, we will be happy to design tour routes for individual travellers and small groups – travel by bicycle, boat or bus, hiking, bird-watching, visits to craftsmen and designers, etc. Various guidebooks and maps are also available.
Our services:
• Creation of personalised packages for groups and individuals
• Reservation of accommodation and related services: hotels, guest houses, manors, self-catering as well as farms
• Booking of specialist guides and tour leaders
• Car, bus, bike and boat hire
• Luggage trasfer between accommodation
• Our publications, professional maps and route descriptions
• Support transportation for groups
Please contact us: lauku@celotajs.lv, Phone.:+371 67617600.
"Baltic country holidays" promotional video:
Go rural - Latvia (2 min)