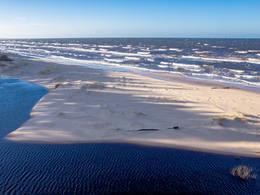 DESTINATION LATVIA
Latvia is a havenfor the tourist who loves nature, respects traditions and would like to experience the country and their cultures more deeply. The people of the Latvia and Baltic have a close relationship with nature and its annual cycle.
We have four distinct seasons – spring, summer, autumn, winter. Each season has its own specific activities like mushrooming, berry picking, collecting herbs, ice-fishing and dierent agricultural jobs as well as traditional and seasonal celebrations.
WINTER MONTHS: December, January, February
The coldest months of a year still brightened up by the Christmas spirit – beautifully decorated Christmas trees, mulled wine, artisan markets and Christmas music. Christian traditions and pre-Christian winter solstice traditions co-exist and merge during this season. The snow enables all kinds of outdoor activities – downhill and cross-country skiing, ice-fishing, snowmobile rides. Driving is very specific on ice-covered roads, therefore in winter it is safer to rely on transfers services.
SPRING MONTHS: March, April, May
The time of nature's awakening after a cold winter. Best time for bird watching – flocks of migrating cranes, swans, wild geese, storks can be observed on their return home for nesting. Birch sap starts circulating in the trees and this time of a year is a unique opportunity to enjoy fresh saps with their invigorating and healthy eects. Beautiful landscapes as the countryside turns green, white and yellow with young leaves and blossoms of cherry, plum and apple trees.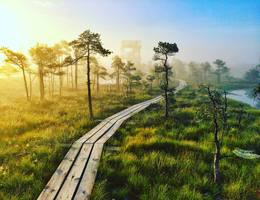 SUMMER MONTHS: June, July, August
The warmest months to enjoy walking, cycling, boating, riding or simply being outdoors and indulging in nature's beauty. The best time to enjoy a great variety of seasonal foods – greenery, vegetables, fruit and berries, fish. The Midsummer celebration period between June 21-23 highlights the summer. Forests are rich in berries and with the second half of August the mushrooming season starts.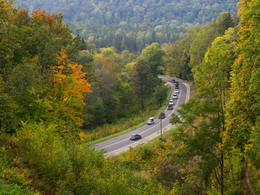 AUTUMN MONTHS: September, October, November
While the first half of September is usually mild and good for mushrooming and other outdoor activities, at the end of the month tree leaves turn bright yellow and red with the first frosty nights and the colours play a magnificent landscape show worth seeing. October and November are the darkest months of a year, therefore outdoor activities are changed for cultural life like concerts, shows, art performances in cities and towns.
WHAT TO DO AND SEE IN THE LATVIAN COUNTRYSIDE
Traditionally, in rural areas people live in stand-alone farmsteads or small villages. There are also charming small towns, full of history and peaceful ambience. To feel the real spirit of the countryside, choose a countryside place to stay and enjoy the variety of activities on site and in local surroundings. Guest houses, manor hotels and country hotels oer pick-up transfers, meals, local excursions to nature attractions, open farms, craft shops, nature based guided activities, spa services and other experiences of nature, local life and culture. We are happy to share with our visitors a variety of experiences rooted in old traditions and skills that we still use in everyday life. You will see and might even try learning how to bake bread, how to weave, how to milk a cow, how to collect and use medicinal herbs, how to forge a nail or make a wooden barrel. For countryside visits pre-booking is always required.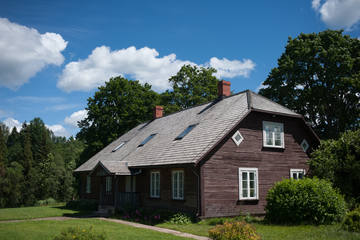 ACCOMMODATION
There is a variety of accommodation available in the countryside. Rooms in manor hotels are furnished with much attention to detail, design and style. Country homes and cottages oer comfortable and functional rooms. In all places guest accommodation are in SGL, TWIN or DBL rooms with shower or bath. In many places morning coee or dinner can be served on a terrace with a view over a lake or wide rolling landscape for you to enjoy the beauty of the surrounding nature. Breakfast is almost always included in guest houses and country hotels. Self-catering accommodation with fully equipped kitchen is also available.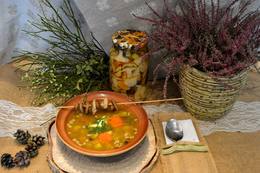 FOOD
Breakfast is almost always included with accommodation while lunch and dinner can be pre-ordered. Menus are often based on locally grown and seasonal foods. Traditionally meals in Latvia include beef and pork meat, fish, eggs, cooked and fresh vegetables, fresh salad, cheese, white and black bread. Various dietary requirements can be met upon prior arrangement. We diversify our seasonal menus with wild mushrooms, wild grasses, herb teas, birch sap and fish from lakes and rivers.
SPA
Many country hotels, manors and guest houses specialise in SPA services ofering high-quality spa procedures so that you can relax and restore yourself. Added value is provided by fresh air, lovely natural and rural landscapes, and the sounds of nature. People have known forcenturies how to use nature materials for their health and wellbeing, and some of this is adapted in modern spa and health treatments, for example, milk or birch sap baths, combined with massage.
SAUNA TRADITIONS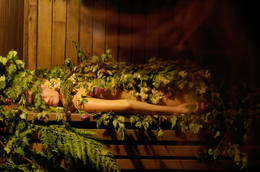 Sauna is an intrinsic part of living in the countryside and of national culture. Sauna restores the body in physical and spiritual terms. A sauna ritual is an adventure on various levels – healing and purifying the body, concentrating the emotions, learning about yourself, and even experiencing a positive change in your consciousness. Sauna rituals are ofered by certified and experienced experts, and the rituals make use of gifts from the environment – branch and plant switches, scrubs and body masks from natural and local raw materials. Herbal teas are also ofered. Sauna rituals can be experienced under guidance of a professional sauna expert as many hosts have inherited sauna traditions passed down the generations or attended special sauna schools.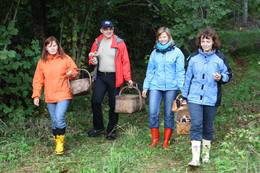 MUSHROOMING AND BERRY PICKING
Latvia is rich in forests so staying in the countryside in August or September must involve mushrooming as a seasonal activity. In our forests we have chanterelles, russulas, Chestnut Bolete (Gyroporus castaneus), Lurid Bolete (Boletus luridus), edible tree-fungus – Sheep polypore (popular in Scandinavian cooking) (Albatrellus ovinus), Golden corall (Ramaria aurea), (Hapalopilus croceus), European bolete(Boletus edulis), golden Coral Tooth (Hericium coralloides. Local people know edible mushrooms well and will show their special mushrooming spots to guests. In early autumn serving mushroom dishes is a leading trend in home kitchens as well as restaurant menus.
NATIONAL PARKS
National parks welcome visitors who enjoy nature and share the feeling of responsibility to preserve and protect it. Wild animals can be seen in their natural habitats, unique landscapes, rare plants are all nature values that are attractively explained by nature guides. Nature experiences usually include walks in specially appointed nature trails with wooden boardwalks and viewing platforms in beautiful landscape areas, hiking along the seashore, enjoying magnificent moments like sunrise or sunset by the sea, listening to the sounds of nature and admiring its colours. Natural parks have their visitor centres ofering tourist information and guidance.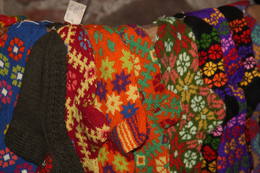 SOUVENIRS AND GIFTS
Hand-made and home-grown products from the countryside carry the true spirit of the country. Traditional products that originate from the past are still in use today. Pottery, natural textiles, knitwear, woodworking products, wax candles, herb teas, natural honey and other handmade and home-made things are favourite gifts. Souvenirs and gifts can be bought in specialised handicraft design shops in cities, in tourist information centres, at country outdoor markets in rural communities, from specialised home-producer shops and directly from producers while visiting them.
Most popular souvenirs and gifts:
Hand-made textiles: authentic colours and patterns are used in contemporary designs of apparel. Natural materials like wool and linen are favourites.
Pottery: clay pottery is a famous tradition and still in practical use. Mugs, plates and bowls in a variety of designs are used to serve food in traditional styles.
Herb teas: herb teas are popular, especially to go with sauna rituals. Herb farms produce high quality teas and mix various plants according to set recipes for medicinal and beauty treatment purposes as well as simply to ofer tasty hot drinks.
Honey: there is a great variety of honey sorts depending on the harvesting time and plants in the vicinity of bee-hives. Apiaries are located in pristine natural locations and the honey is pure and natural.
Jewellery: jewellery made of bronze, silver and other metals present ancient signs and symbols. Each one has a particular meaning and traditions of wearing.