1. Mushrooming in the Gauja national park (day tour)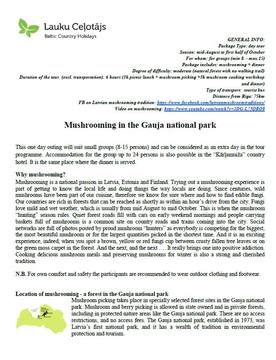 Mushrooming is a national passion in Latvia, Estonia and Finland. Trying out a mushrooming experience is part of getting to know the local life and doing things the way locals are doing. Since centuries, wild mushrooms have been part of our cuisine, therefore we know for sure where and how to find edible fungi. Our countries are rich in forests that can be reached as shortly as within an hour's drive from the city. Fungi love mild and wet weather, which is usually from mid August to mid October. This is when the mushroom "hunting" season rules. Quiet forest roads fill with cars on early weekend mornings and people carrying baskets full of mushrooms is a common site on country roads and trains coming into the city. Social networks are full of photos posted by proud mushroom "hunters" as everybody is competing for the biggest, the most beautiful mushroom or for the largest quantities picked in the shortest time. And it is an exciting experience, indeed, when you spot a brown, yellow or red fungi cup between crusty fallen tree leaves or on the green moss carpet in the forest. And the next, and the next …. It really brings one into positive addiction. Cooking delicious mushroom meals and preserving mushrooms for winter is also a strong and cherished tradition.

---
2. The Great Ķemeri Bog Boardwalk (day tour)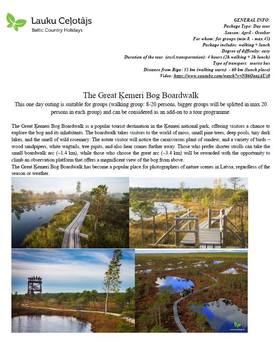 The Great Ķemeri Bog Boardwalk is a popular tourist destination in the Ķemeri national park, offering visitors a chance to explore the bog and its inhabitants. The boardwalk takes visitors to the world of moss, small pine trees, deep pools, tiny dark lakes, and the smell of wild rosemary. The astute visitor will notice the carnivorous plant of sundew, and a variety of birds – wood sandpipers, white wagtails, tree pipits, and also hear cranes further away. Those who prefer shorter strolls can take the small boardwalk arc (~1.4 km), while those who choose the great arc (~3.4 km) will be rewarded with the opportunity to climb an observation platform that offers a magnificent view of the bog from above.
The Great Ķemeri Bog Boardwalk has become a popular place for photographers of nature scenes in Latvia, regardless of the season or weather.

---
3. Nature experience in the Gauja national park (nature hiking incl. overnight stay in the country hotel)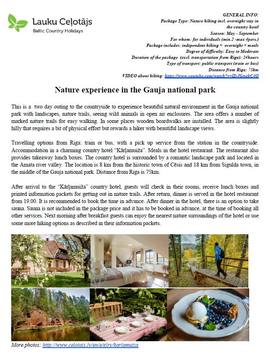 This is a two day outing to the countryside to experience beautiful natural environment in the Gauja national park with landscapes, nature trails, seeing wild animals in open air enclosures. The area offers a number of marked nature trails for easy walking. In some places wooden boardwalks are installed. The area is slightly hilly that requires a bit of physical effort but rewards a hiker with beautiful landscape views.
Travelling options from Riga: train or bus, with a pick up service from the station in the countryside. Accommodation in a charming country hotel "Kārļamuiža". Meals in the hotel restaurant. The restaurant also provides takeaway lunch boxes. The country hotel is surrounded by a romantic landscape park and located in the Amata river valley. The location is 8 km from the historic town of Cēsis and 18 km from Sigulda town, in the middle of the Gauja national park. Distance from Riga is 75km.
After arrival to the "Kārļamuiža" country hotel, guests will check in their rooms, receive lunch boxes and printed information packets for getting out in nature trails. After return, dinner is served in the hotel restaurant from 19.00. It is recommended to book the time in advance. After dinner in the hotel, there is an option to take sauna. Sauna is not included in the package price and it has to be booked in advance, at the time of booking all other services. Next morning after breakfast guests can enjoy the nearest nature surroundings of the hotel or use some more hiking options as described in their information packets.

---
4. Ceramic workshop and country style lunch (stopover Riga-Tallinn)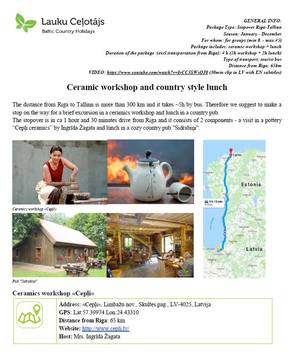 The distance from Riga to Tallinn is more than 300 km and it takes ~5h by bus. Therefore we suggest to make a stop on the way for a brief excursion in a ceramics workshop and lunch in a country pub.
The stopover is in ca 1 hour and 30 minutes drive from Riga and it consists of 2 components - a visit in a pottery "Cepļi ceramics" by Ingrīda Žagata and lunch in a cozy country pub "Sidrabiņi".
---
5. Herb garden and country style lunch (stopover Riga-Tallinn)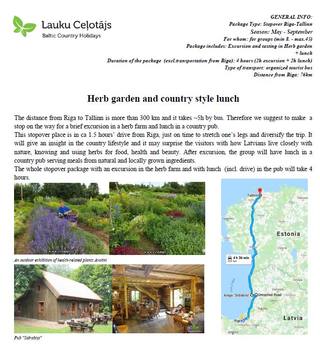 The distance from Riga to Tallinn is more than 300 km and it takes ~5h by bus. Therefore we suggest to make a stop on the way for a brief excursion in a herb farm and lunch in a country pub.
This stopover place is in ca 1.5 hours' drive from Riga, just on time to stretch one's legs and diversify the trip. It will give an insight in the country lifestyle and it may surprise the visitors with how Latvians live closely with nature, knowing and using herbs for food, health and beauty. After excursion, the group will have lunch in a country pub serving meals from natural and locally grown ingredients.
The whole stopover package with an excursion in the herb farm and with lunch (incl. drive) in the pub will take 4 hours.

---
6. Bread baking workshop and country life in the country house "Caunites" (day tour)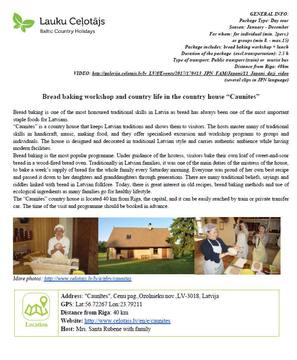 Bread baking is one of the most honoured traditional skills in Latvia as bread has always been one of the most important staple foods for Latvians.
"Caunites" is a country house that keeps Latvian traditions and shows them to visitors. The hosts master many of traditional skills in handicraft, music, making food, and they offer specialised excursion and workshop programs to groups and individuals. The house is designed and decorated in traditional Latvian style and carries authentic ambience while having modern facilities.
Bread baking is the most popular programme. Under guidance of the hostess, visitors bake their own loaf of sweet-and-sour bread in a wood-fired bread oven. Traditionally in Latvian families, it was one of the main duties of the mistress of the house, to bake a week's supply of bread for the whole family every Saturday morning. Everyone was proud of her own best recipe and passed it down to her daughters and granddaughters through generations. There are many traditional beliefs, sayings and riddles linked with bread in Latvian folklore. Today, there is great interest in old recipes, bread baking methods and use of ecological ingredients as many families go for healthy lifestyle.
The "Caunites" country house is located 40 km from Riga, the capital, and it can be easily reached by train or private transfer car. The time of the visit and programme should be booked in advance.
---
7. Enjoy the beauty of the The Great Ķemeri Bog - bog shoe walking in winter or summer (day tour)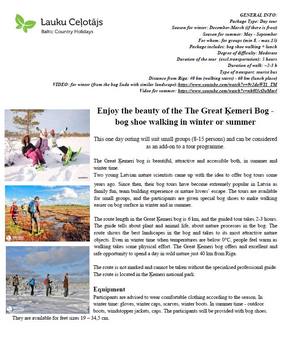 The Great Ķemeri bog is beautiful, attractive and accessible both, in summer and winter time.
Two young Latvian nature scientists came up with the idea to offer bog tours some years ago. Since then, their bog tours have become extremely popular in Latvia as family fun, team building experience or nature lovers' escape. The tours are available for small groups, and the participants are given special bog shoes to make walking easier on bog surface in winter and in summer.
The route length in the Great Ķemeri bog is 6 km, and the guided tour takes 2-3 hours. The guide tells about plant and animal life, about nature processes in the bog. The route shows the best landscapes in the bog and takes to its most attractive nature objects. Even in winter time when temperatures are below 0°C, people feel warm as walking takes some physical effort. The Great Ķemeri bog offers and excellent and safe opportunity to spend a day in wild nature just 40 km from Riga.
The route is not marked and cannot be taken without the specialised professional guide. The route is located in the Ķemeri national park.
---
8. Barefoot walking path in "Valguma Pasaule" recreation center (day tour)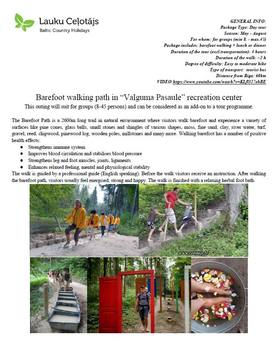 The Barefoot Path is a 2600m long trail in natural environment where visitors walk barefoot and experience a variety of surfaces like pine cones, glass balls, small stones and shingles of various shapes, moss, fine sand, clay, river water, turf, gravel, reed, chipwood, pinewood log, wooden poles, millstones and many more.
Walking barefoot has a number of positive health effects:
Strengthens immune system
Improves blood circulation and stabilises blood pressure
Strengthens leg and foot muscles, joints, ligaments
Enhances relaxed feeling, mental and physiological stability
The walk is guided by a professional guide (English speaking). Before the walk visitors receive an instruction. After walking the barefoot path, visitors usually feel energised, strong and happy. The walk is finished with a relaxing herbal foot bath.