Visiting local events is a good opportunity to really meet local people and immerse in the rural lifestyle.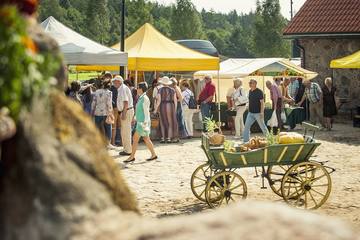 Farmers' markets, local fairs and harvest festivals are a strong tradition and take place in all rural destinations. Farmers and local food producers sell their own produce and offer tastings. Craft masters are present with their masterpieces. The true spirit of the countryside shows in song and dance performances by local groups.
Local farmers' markets usually take place on weekends, every other weekend or in other regular times. There are markets dedicated to seasonal festivities such as Christmas markets.
Festivals are usually linked with the season, for example, spring festivals are a parade of garden plants and also local foods and crafts, while in autumn harvest festivals offer the widest range of local specialties and home-produced foods.
Home cafe days are a comperatively new tradition. This unique pop-up event allows visitors to taste the best local dishes people usually serve on their own festive tables.
Midsummer is festive time in all our countries when people celebrate with special traditions, songs, dances and festive foods.
Visiting a local event can be added to excursion programmes in destinations to get an authentic experience of today's social life in the countryside.
---
HOME CAFE DAYS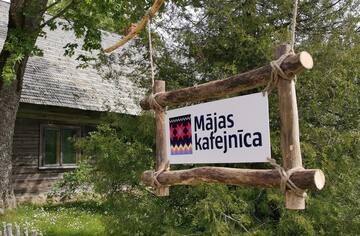 For 1-2 days within a particular destination, farmyards and other places that are not always related to business and catering services on a daily basis, turn into cafes. Within Open cafe days each farmstead prepares its own special treat - a soup, a casserole, a cake, a bread, or a whole meal - and offers it to visitors together with coffee/tea. Each farm presents its home-cafe name and the product offered is also presented with its cultural characteristics and story. In order to attract a wider community and families with children, various cultural activities are organized: handicrafts, games, playing musical instruments, etc.
Local cuisine in our countries is based on natural products from a clean environment. Spring and summer seasons are characterised by lighter dishes like greens, dairy products and seasonal fish, grilled meat, forest berries and mushrooms. Meat dishes with vegetable and grain side dishes, fermented and pickled vegetables dominate cold seasons meals.
Latvia
Latvia has a wealth of culinary traditions, because the country is at the crossroads of Europe, and so influences from other nations have come from the East and the West over the course of centuries. Latvian cuisine is distinctly seasonal, because there are four seasons, and each of them offers specific products and tasty treats. Latvian menu features many dishes from the forest, waters, meadows or our own garden.
In Latvia Home cafe days take place in summer and early autumn months when the young harvest arrives - from strawberries and raspberries in July to early potatoes at the end of August, mushrooms in September and the great variety of traditional pickles in October. This event unites the community members in destinations as everybody is willing to present the offer in the best possible way to share with others. The best recipes add to a destination's recognition and image.
Estonia
In Estonia pop-up Café Days take place in summer and early autumn months in different regions and different dates, usually on weekends.
On Café Days, estonians invite visitors to farmyards, to home restaurants open only for that day and sometimes even to barns or to unique and cosy places where there are usually no cafes, in order to taste local handmade dishes from locally sourced ingredients.
In each area where pop-up cafe days are held, you can discover a variety of unique cafes that are specific to that area and where often is served food based on family recipes.
Summer is prime time to taste Estonia's home cooking.
---
MIDSUMMER
Midsummer is celebrated in our countries between June 18 and 25, each country on slightly different dates. It is the most important traditional festivity of the summer in Finland, Sweden, Estonia and Latvia. Each country has its own authentic traditions related to sun and fertility while what is common to all is special festive foods, picking wild flowers and making wreaths, and gathering to celebrate around a fire - a bonfire or maypole.
Latvia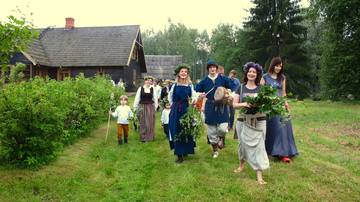 The Summer Solstice is the one celebration in Latvia that has the most traditions. The celebration is held when the Sun has reached its apex in the sky, with the longest day being followed by the shortest night of the year. Nature is flourishing. Because the Solstice does not take place on the same day each year, the ancient Latvians celebrated the festival in accordance with the movement of the sun, and the celebration began on June 21. Today, Summer Solstice Eve is celebrated in Latvia on June 23, with the Summer Solstice day, known as Jāņi in Latvia, is an official holiday. However, those who practice authentic traditions, follow the Sun calendar.
Midsummer celebration is a strong part of rural lifestyle. There are communities and rural farms that welcome visitors and with pleasure explain the authentic traditions allowing guests to become part of the celebration and enjoy a true midsummer experience with songs, dances and ancient rituals.
Estonia
Midsummer or St. John's Day, Jaanipäev as it is known in Estonia, is one of the oldest local celebrations. Late June is the perfect time for a holiday in the blooming nature where days extend into nights, with barely any darkness in sight.
Summer Solstice
Due to its northern location, Estonia experiences the summertime 'White Nights' phenomena, when the sun sets late and the night is dusk at most. Midsummer coincides closely with the longest day of the year in the northern hemisphere – the summer solstice. Every year the solstice occurs on June 20nd or 21st, Midsummer festivities begin on the eve of June 23rd and conclude on June 24th. Estonians barely sleep during this bright period, sitting outside by the glow of bonfires and twilight.
Originating in ancient folk traditions, St. John's Day marks the beginning of the season for haymaking. The day was celebrated long before the arrival of Christianity in Estonia and although the celebration received a Christian name, the pagan tradition is still alive and well today. Since 1919, Midsummer celebrations have coincided with those of Victory Day, when Estonian forces defeated German troops on June 23rd in the War of Independence.
Superstitious legends
Midsummer's Eve is intertwined with many folk beliefs. Children stay up until dawn, while young lovers wander through the forest looking for a lucky fern flower said to bloom only on this night. If you are lucky enough to spot a glowworm, you may expect a great fortune. Young women looking to take a sneak peek into the future are advised to collect nine different types of flowers and place them under a pillow for the night, resulting in a predictive dream revealing a future spouse. The more adventurous boys and girls are known to take a jump over the bonfire in hopes of achieving prosperity or to swing as high as possible on the village's wooden swing. More moderate traditions include singing, dancing and telling old folk tales.
Today, Midsummer is a national holiday giving city folks an opportunity to take a break in the countryside. People tend to spend the day with friends barbecuing in the garden or having a picnic in the wilderness. However, the tradition of village parties featuring bands playing around massive bonfires hasn't gone anywhere, proving to be the highlight event in many rural towns and villages.
---
CIDER FESTIVALS
Apple Harvest Festival at Ārlavciems
Apple Harvest Festival at Ārlavciems takes place in September, and is organised by the Abavas Winery.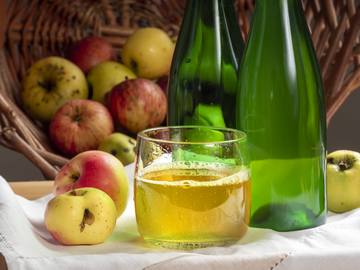 The ABAVA family winery was established by the Mārtiņš and Liene Barkāns family. It is a highly developed company which produces high-quality beverages from Latvian-grown fruits and berries. The winery's vineyard covers 3.5 hectares, and it is expanded year by year. The owners are proud of a broad range of types of grapes, and each year they harvest some of them and produce a limited amount of grape wine in Latvia. The winery was established in 2010, and comparatively quickly it has become one of Latvia's leading wineries.
The Apple Harvest festival is for everyone who appreciates the countryside with its typical fresh air and peace, and enjoys working in the garden together with friends, relatives and family. During the event visitors can pick the special Ārlavciems apples, celebrate, enjoy open-air concerts, participate in various workshops and physical activities, relax in the apple orchard cinema, and take part in many other activities.
Sabile Wine Festival
For many years now, the Sabile Wine Festival has been based on the historical traditions of the Sabile Wine Hill. Every year, almost all of the Latvian wine producers gather here in the last week of July. With increasing numbers of cider makers, this festival has gradually become a fair for cider too, adding to the enjoyment of tourists in Kurzeme region.
---
STRAUPE FARMERS' MARKET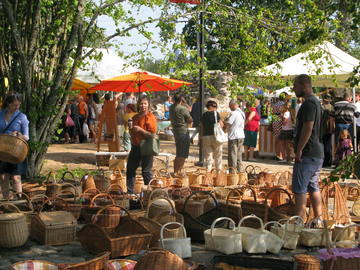 This market sells produce from local farmers and home manufacturers who offer traditional and seasonal food which they grow and prepare themselves. Visitors can purchase vegetables, fruit, fresh and smoked meat, cheese, bread, country tortes, homemade wine and various household and gardening objects.
Straupe's farmers' market is part of the international Earth Markets alliance. This means that products sold at the market are manufactured in accordance with the Slow Food philosophy. They are grown honestly, thinking about environmental sustainability and biological diversity. For consumers, this is a paradise of taste, involving traditional and high-quality products and great imagination in terms of what to do with them.
TRADITIONAL APPLIED FOLK ART FAIR IN RIGA
The Traditional Applied Folk Art Fair taking place in June every year is the most well-known and unforgettable event at the Ethnographic Open-Air Museum of Latvia in Riga. The museum has been hosting it for over 50 years. For the fair, the most talented artisans, singers, and dancers come together from all over Latvia.