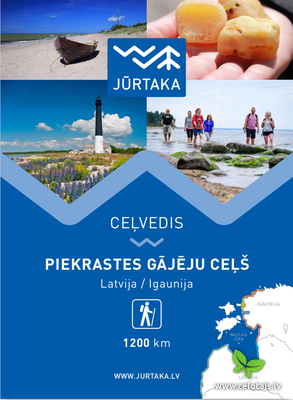 05/08/2019
Baltic Coastal Hiking is a long distance hiking route part of E9 along the coast of the Baltic Sea. The hiking route starts at the Lithuanian-Latvian border in the village of Nida in Latvia and finishes at the Port of Tallinn in Estonia. The ~1200 km of the Baltic Coastal Hiking Route are split up into 60 separate parts of one day walks (~20-25 km). Each day's walk has a detailed description. An additional three spreads of the guide are dedicated to the islands of Estonia where travellers can continue their hike or, quite the contrary, relax by enjoying the cultural, historic, gastronomic or wellness offers on the islands. The guidebooks are issued in 5 different languages (english, latvian, german, estonian and russian). In limited amounts english, latvianan and german versions are available in printed format at our office in Riga, Kalnciema street 40.
Homepage: coastalhiking.eu
Facebook: facebook.com/jurtaka
Instagram: instagram.com/jurtaka
---
---
See all news for "Lauku Celotajs printed publication news"