A wonderful experience with flavours and emotions in Northern Latgale on August 28 and 29!
Balvi, Viļaka, Rugāji and Baltinava have lots of wonderful destinations to visit so as to discover new emotions and flavours and to experience an unforgettable visit. There are lots of unique and unusual sites here.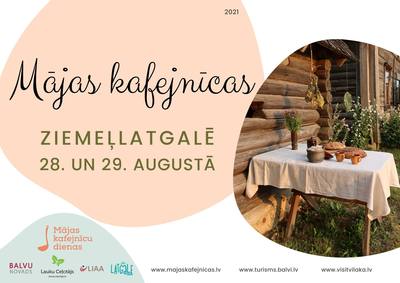 Guests will enjoy the sound of waves on the lake, the musical notes of the wind, the aroma of homemade bread, the ability to try one's hand at weaving, a visit to a ceramics or blacksmith workshop, or a chance to taste local goodies that have been prepared with much love. Guests can replace the hurly-burly of the city with the silence of the countryside at weekend homes in Northern Latgale. Unhurried days will be full of very nice surprises!
"Home Café Days" in Northern Latgale - 13 cafés awaiting visitors
All events can be found under "Home Cafés" or on the "Map" (in Latvian).
"Home Café Days" in Northern Latgale, August 28-29 - ►BROCHURE (PDF, 8.70 MB)
---
Follow along with the news and be the first one to learn about new events!
---
Plan a holiday at the Balvi, Viļaka, Rugāji and Baltinava administrative districts to enjoy the charm of small towns, rural landscapes and the proximity of nature. Wonderful Northern Latgale welcomes you!

Fun facts:
Viļaka is home to the longest ponton bridge in Latvia -- 144 m across Lake Viļaka to an island;
The world's largest ensemble of wind chimes as part of the "Air" outdoor object, creating music at the estate park that is on the banks of Lake Balvi;
The Roman Catholic Church in Balvi has the eye of God;
The cultural space of Upīte is part of the historical Abrene District and unique because of its Northern Latgale Latvian and Lettigalian cultural heritage, traditions and language;
The "Stompaku Swamps" environmentally restricted area features the largest national partisan dugouts in the Baltic States;
The reason why the women's folk costume in Northern Latgale (Abrene) is white can be learned in Baltinava and at the Balvi Administrative District Museum;
Right on the border is the Kotiņi farm, which is one of the largest grain and legume farms in the Baltic States, inviting guests to look at its everyday operations and to enjoy some of the goodies that are produced there;
The tree wisdom workshop at Rugāji is full of surprises. Did you know that trees provide strength, that there is a horoscope for trees, and that you can sew a button of happiness to your clothes at the workshop?
Unusual and extensive private collections of antiquities and old equipment -- "Rust in the Wind," "Tilža," "Cīrulīši" and the Abrene rooms in Viļaka;
True Lettigalian beer is brewed in Bērzpils;
"100 Blankets" for Latvia were created right next to the border;
The village of Zelči in the Baltinava Administrative District is the first populated area on Latvia's longest parallel -- the 57th parallel -- and Russia is just a hop and a skip away;
During the summer, Lake Balvi offers a leisure park that is nearly 1,000 m2 in size;
The banks of the Iča River in the Bērzpils Parish were settled for some 3,000 years from the Early Neolithic Era to the Early Bronze Era;
The Roman Catholic Church in Augustova has a unique collection of icons that have healing power, including a copy of the Endless Assistance Mother of God icon, the original of which is in the Church of St Alphonse in Rome;
The Viļaka Catholic Church is a pearl of Northern Latgale Gothic design.
---
► What are "Home Café Days"?
The yards of farms and other places that are not linked to dining and accommodations on a daily basis will turn into cafés for a day or two. Guests will be able to taste local foods to learn new flavours, as well as to enjoy an interesting cultural programme. Each farm has families and/or friends who will prepare a special offer -- flatbreads, cakes, casseroles etc. to be served with tea or coffee. Each farm will present the name of its café, and the products will be served with characteristic cultural characteristic and stories. There will also be various cultural activities such as handicrafts, games, playing of musical instruments, etc.
► "Home Café Days" all over Latvia this year, from July until October >>> celotajs.lv/majaskafejnicas.
---
Please note:
When planning your route, you must get in touch with the desired destinations in advance. Contact information can be found in the sections "Home Cafés" and "Map".
Make sure that you know the date and time when participants will be providing services. Usually that will be between 10:00 AM and 6:00 PM, but some venues may have different opening times.
Make sure that you keep national epidemiological rules in mind to protect yourself, the people you are visiting, and other visitors, as well. For timely information about the epidemiological situation, please visit www.spkc.gov.lv (the Latvian Sickness Prevention and Control Centre), or covid19.gov.lv.
The epidemiological situation may mean that there will be changes in the offers. Visit "Home Cafés" or "Map", to click on specific offers and see whether that is so.
At some of the "Home Cafés," payment will only be accepted in cash.
We hope all guests will experience truly exciting adventures of taste!
---
"Home Café Days" in Latvia are organised by: