"Home Café Day" in the "Veclaicene" region of protected landscape on August 28!
You will not find a more beautiful landscape in Latvia than along the border between it and Estonia. This brings together the uniqueness of nature, the hard work of local residents, as well as cultural diversity. This is a great alternative to those who love Scandinavia and the Alps, because here visitors will find the Alūksne highlands with their distinct terrain, Nordic uniqueness and border zone charm.
"Home Café Days" will involve the most hospitable people who, in nine different places, will open up their yards and gardens to serve home-cooked meals. The atmosphere of the region and its residents will be demonstrated in a show called "Farm." You can visit the Čuksti quarry and learn about its secrets, as well as take strolls through the parks of former aristocratic estates, or in the lovely forest that surrounds them. You will be served locally produced, tasty and carefully presented local foods, and each owner will ensure a special atmosphere and activities that will supplement the meal.
Local residents care about their environment, and they are proud of the "Veclaicene" protected landscape region. Events will be environmentally friendly, with eco-friendly detergents, waste sorting and a proposal that visits to cafés be supplemented with bike rides. When out in nature, remember this principle: "Take away everything that you brought here."
Contact the café in advance to make sure that the event is special and safe. Only cash will be accepted. Weather conditions can shift, so be sure that you prepare for various eventualities in this regard.
We would also remind you that if you are in the outstanding tourist destination of the "Veclaicene" protected landscape region, a must is to scale the steep Drusku Hill, from where you will be able to spot the highest summit in the Baltic States, Great Munamägi. You can learn words from the local language at the Jaunlaicene Estate Museum and enjoy a stroll through the landscapes along the double oak tree alley of Ziemeri that is more than 1 km long.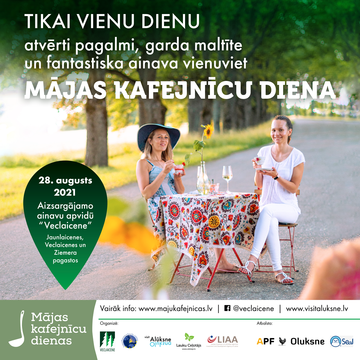 All events can be found under "Home Cafés" or on the "Map" (in Latvian).
""Home Café Day" in the "Veclaicene" region of protected landscape - ►BROCHURE
---
Follow along with the news and be the first one to learn about new events!
---
► What are "Home Café Days"?
The yards of farms and other places that are not linked to dining and accommodations on a daily basis will turn into cafés for a day or two. Guests will be able to taste local foods to learn new flavours, as well as to enjoy an interesting cultural programme. Each farm has families and/or friends who will prepare a special offer -- flatbreads, cakes, casseroles etc. to be served with tea or coffee. Each farm will present the name of its café, and the products will be served with characteristic cultural characteristic and stories. There will also be various cultural activities such as handicrafts, games, playing of musical instruments, etc.
► "Home Café Days" all over Latvia this year, from July until October >>> celotajs.lv/majaskafejnicas.
---
Please note:
When planning your route, you must get in touch with the desired destinations in advance. Contact information can be found in the sections "Home Cafés" and "Map".
Make sure that you know the date and time when participants will be providing services. Usually that will be between 10:00 AM and 6:00 PM, but some venues may have different opening times.
Make sure that you keep national epidemiological rules in mind to protect yourself, the people you are visiting, and other visitors, as well. For timely information about the epidemiological situation, please visit www.spkc.gov.lv (the Latvian Sickness Prevention and Control Centre), or covid19.gov.lv.
The epidemiological situation may mean that there will be changes in the offers. Visit "Home Cafés" or "Map", to click on specific offers and see whether that is so.
At some of the "Home Cafés," payment will only be accepted in cash.
We hope all guests will experience truly exciting adventures of taste!
---
"Home Café Days" in Latvia are organised by: