The Valmiera Administrative District - the heart of Northern Vidzeme.
The town of Valmiera and the Beverīna, Burtnieki, Kocēni, Mazsalaca, Naukšēni, Rūjiena and Strenči administrative districts were merged into the new district, which is becoming an attractive tourist destination full of offers. It is the second largest territory in Latvia in terms of population after the capital city of Rīga. The Valmiera Administrative District as the heart of Northern Vidzeme includes the town of Valmiera, four small towns - Mazsalaca, Rūjiena, Seda and Strenči, as well as 26 parishes.

The Gauja River as the main street in Valmiera, the St Simon's Church with a rooster on its steeple, the hospitality of Valmiermuiža, sunsets and auroras on Lake Burtnieks, new strength at Zilaiskalns Hill, breath-taking views of the banks of the Salaca River at the Skaņākalns Nature Park in Mazsalaca, bird-watching at the Seda swamp, returning to childhood with the flavour of Rūjiena ice cream -- all this and much more will welcome guests to the Valmiera Administrative District.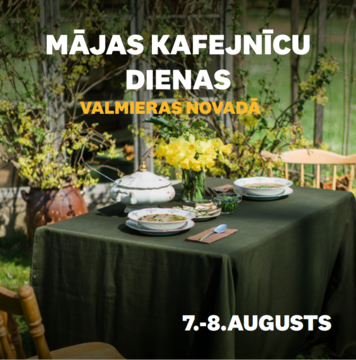 Local residents have always been busy, busy, busy. That was true back in antiquity, when a wide network of rivers with the Gauja as their main artery encouraged people to live here and develop economic activities. During the Middle Ages, longboats from the cities of the Hanseatic League plied the Gauja River, introducing people to foreign goods such as spices, various craftsmanship products, etc. It may be because of these genes of economic business that Valmiera has flourished and become the centre for economic growth, management, education and outstanding life in the Vidzeme region. People here are proud of their green lifestyle and global success stories.
When joy about work coincides with joie de vivre and honouring of nature, miracles turn into reality. We want to share them, because we can accomplish a great deal by working together. It is particularly important to find strength and inspiration in joie de vivre. That will be true at the "Home Café Days" in the Valmiera Administrative District. Guests will find beautiful and interesting stories, as well as natural goodies that skilful cooks will turn into a true feast of flavours!
"Home Café Days" from August 7-8, with 20 home cafés in the Valmiera Administrative District welcoming visitors.
All events can be found under "Home Cafés" or on the "Map" (in Latvian).

"Home Café Days" in the Valmiera Administrative District - ►BROCHURE (4.41 MB)
Follow along with the news and be the first one to learn about new events!

Visit Valmiera

Valmieras novads

visitvalmiera
---
---
► What are "Home Café Days"?
The yards of farms and other places that are not linked to dining and accommodations on a daily basis will turn into cafés for a day or two. Guests will be able to taste local foods to learn new flavours, as well as to enjoy an interesting cultural programme. Each farm has families and/or friends who will prepare a special offer -- flatbreads, cakes, casseroles etc. to be served with tea or coffee. Each farm will present the name of its café, and the products will be served with characteristic cultural characteristic and stories. There will also be various cultural activities such as handicrafts, games, playing of musical instruments, etc.
► "Home Café Days" all over Latvia this year, from July until October >>> celotajs.lv/majaskafejnicas.
---
Please note:
When planning your route, you must get in touch with the desired destinations in advance. Contact information can be found in the sections "Home Cafés" and "Map".
Make sure that you know the date and time when participants will be providing services. Usually that will be between 10:00 AM and 6:00 PM, but some venues may have different opening times.
Make sure that you keep national epidemiological rules in mind to protect yourself, the people you are visiting, and other visitors, as well. For timely information about the epidemiological situation, please visit www.spkc.gov.lv (the Latvian Sickness Prevention and Control Centre), or covid19.gov.lv.
The epidemiological situation may mean that there will be changes in the offers. Visit "Home Cafés" or "Map", to click on specific offers and see whether that is so.
At some of the "Home Cafés," payment will only be accepted in cash.
We hope all guests will experience truly exciting adventures of taste!
---
"Home Café Days" in Latvia are organised by: