"Home Café Day" at Suiti on August 21!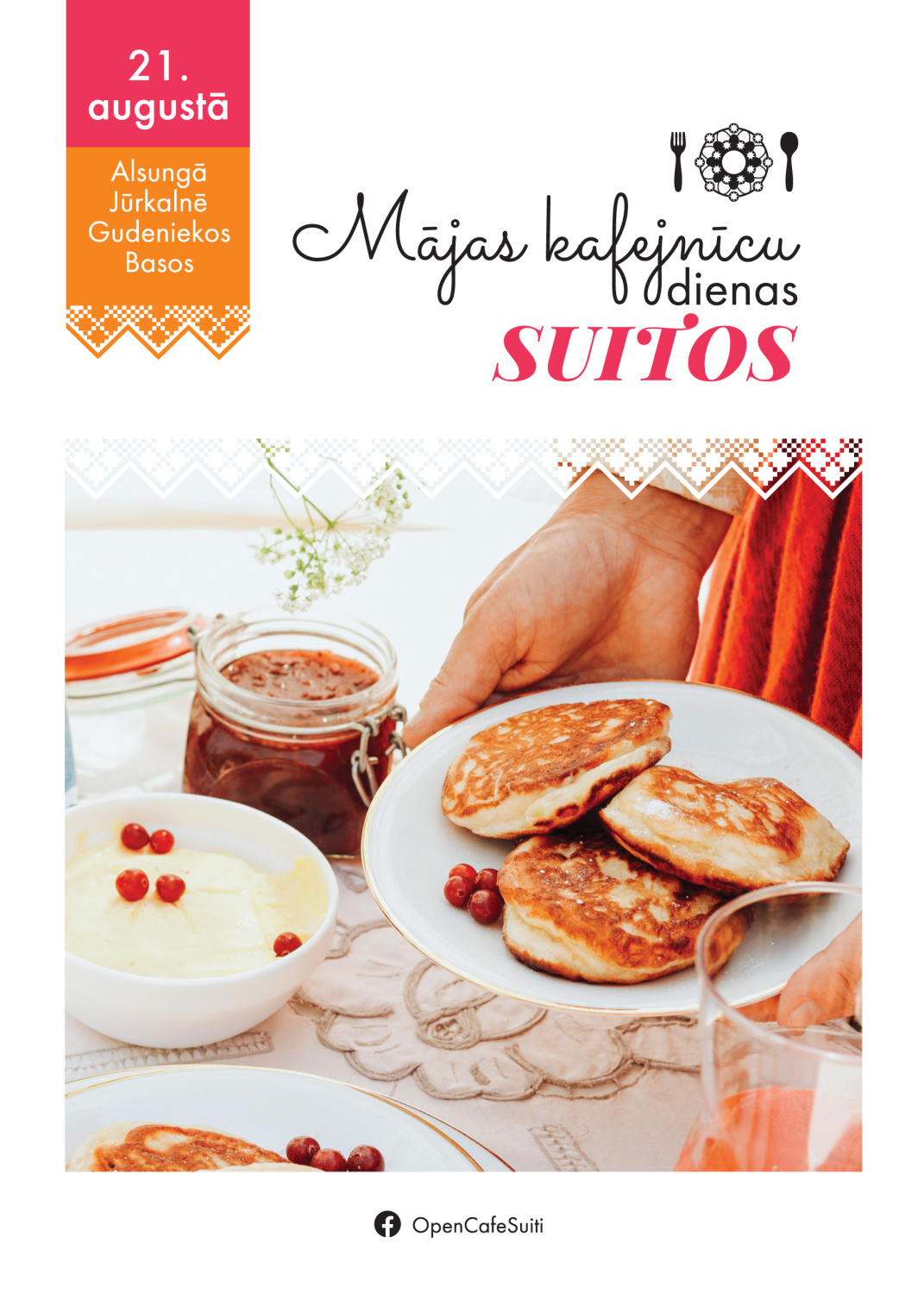 August 21 will be the second time that local residents of the historical Suiti Administrative District (Alsunga, Jūrkalne and Gudenieki) will be opening their doors to visitors to serve homemade foods. Visitors will learn about the rich culinary heritage of the Suiti, hear their songs and stories, listen to local musicians, dance, learn about local traditions, take part in creative workshops and games, etc. More than 20 home cafés will be open.
All events can be found under "Home Cafés" or on the "Map" (in Latvian).
"Home Café Days" in the Suiti Administrative District - ►BROCHURE
Follow along with the news and be the first one to learn about new events!
---
► What are "Home Café Days"?
The yards of farms and other places that are not linked to dining and accommodations on a daily basis will turn into cafés for a day or two. Guests will be able to taste local foods to learn new flavours, as well as to enjoy an interesting cultural programme. Each farm has families and/or friends who will prepare a special offer -- flatbreads, cakes, casseroles etc. to be served with tea or coffee. Each farm will present the name of its café, and the products will be served with characteristic cultural characteristic and stories. There will also be various cultural activities such as handicrafts, games, playing of musical instruments, etc.
► "Home Café Days" all over Latvia this year, from July until October >>> celotajs.lv/majaskafejnicas.
---
Please note:
When planning your route, you must get in touch with the desired destinations in advance. Contact information can be found in the sections "Home Cafés" and "Map".
Make sure that you know the date and time when participants will be providing services. Usually that will be between 10:00 AM and 6:00 PM, but some venues may have different opening times.
Make sure that you keep national epidemiological rules in mind to protect yourself, the people you are visiting, and other visitors, as well. For timely information about the epidemiological situation, please visit www.spkc.gov.lv (the Latvian Sickness Prevention and Control Centre), or covid19.gov.lv.
The epidemiological situation may mean that there will be changes in the offers. Visit "Home Cafés" or "Map", to click on specific offers and see whether that is so.
At some of the "Home Cafés," payment will only be accepted in cash.
We hope all guests will experience truly exciting adventures of taste!
---
So why should you visit the Suiti Administrative District?!
The Suiti are an ethnic group of Latvians, a unique Catholic island in the centre of Lutheran Kurzeme. The group has a rich history that has lasted for nearly 400 years. Religious differences were the reason why the Suiti closed themselves off, creating long-lasting, unique and rich folk traditions. The local language has been preserved, and words can be heard in conversations from time to time. The Suiti ethnographic and folklore ensembles always sing in the Suiti dialect. The culture of the Suiti is registered on the UNESCO list of World Heritage. The culture is special because of colourful folk costumes, traditions, songs and the multi-voice singing of women. If you are interested in the origins of this unusual cultural identity, which is a mixture of Latvian, Liv, German and Polish cultures, we would suggest that you visit the Medieval Alsunga Castle. There you will learn all about the Schwerin dynasty, which played an enormous role in creating laws and habits in the area. It is thanks to the family that residents of the Alsunga Estate and surrounding estates began to call themselves Suiti because of their identity. After visiting the castle, go to the St Michael Roman Catholic Church in Alsunga. Along the way you can scale an ancient Courlandian castle hill - Dižbagalkalns, because it is right between the castle and the church.

Next travel to Jūrkalne, which offers one of the loveliest Baltic Shore coastlines in Latvia. You will find an impressively steep shore there. Visit the "Storm Museum," as well as the St. Joseph Roman Catholic Church in Jūrkalne. You will hear stories about the Suiti and about a local sailor. Legend has it that the first church in Jūrkalne was built by a sea captain who had safely landed on the coast. Other books will tell you that the church was actually built by a local Baltic German aristocrat, Johann Ulrich von Schwerin.

We also recommend a visit to Gudenieki, where you will find the St John the Baptist Catholic Church. One specific thing about the Suiti lands is lots of crosses that have been installed along roads, by houses and in cemeteries. There are nine graveyards in the Gudenieki congregation. The Birži Estate in Basi is worth a look. The former residential building for servants, an antique granary and a large park have been preserved. The Basi Folk Centre has an exhibition focusing on the four most important events in a Suiti person's life -- Christening, marriage, the funeral and various traditions related to the church and different kinds of anniversaries.
---
"Home Café Days" in Latvia are organised by: