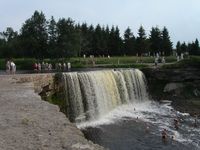 What's special about the nature in Estonia?
In Estonia, there stands the most impressive rock wall in the Baltics - the so called North Estonian "glint" (from Estonian language). Estonia has its own "Land of Inlets" - the Lahemaa region with its national park, the "Land of Islands" - the Saaremaa island and the Monzund archipelago. The Matsalu bay is one of the most significant rest stops for birds during their migration. In Estonia there is one of the most prominent impact craters in Europe, there are the greatest waterfalls and boulders in the Baltics, the Munamagi hill - the highest spot in the Baltics, the Lake Peipus - the 5th largest lake in Europe, - with long-standing fishing traditions, and the great variety of nature from West to East, from North to South.

You can plan your trip, choosing the nature sites in Estonia you would like to see, or you can pick from our tour itineraries leading through beautiful protected nature areas.

Act responsibly - follow the Green advice!