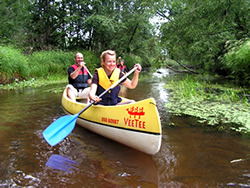 There are several hundred kilometres of rivers to be explored in the Baltics. Our rivers are ideal for leisurely boating in summertime. Perhaps you will find occasional small rapids, a fallen tree or a beaver dam. During springtime flooding, when the bird-cherry blossoms, in the summer and during the golden season of the fall, each river offers a new and exciting adventures and requires some skills and safety equipment. There are beautiful sandstone cliffs alongside many of the rivers. Don't forget your fishing pole - lots of fish, too.
Before your arrival, we shall send you a personalised tour program with dates, accommodations and extra services you booked (please see the optional extra services available in each tour description in the below table).
Upon your arrival at the first hotel of your tour you will receive maps, traveling instructions, and vouchers for your booked services. To see an example of the traveling instructions please click here (pdf file).
Good to know! Read our practical advise for canoeing in Latvia!