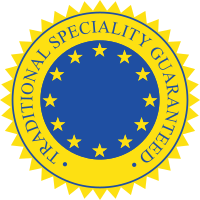 The Jānu siers (Jāņi cheese) has the longest tradition as it is, together with beer, the main festive treat of the Midsummer celebration, which also received EU Traditional Speciality Guaranteed - TSG logo.
The European Union currently registers 52 products in the category "Traditional Specialty Guaranteed," including three in Latvia. These are carrot buns known as sklandrauši, a specific type of rye bread and Summer Solstice cheese. The Traditional Speciality Guaranteed project was set up to protect traditional manufacturing methods and recipes, offering manufacturers of traditional products to sell the products and to inform products about elements in the traditional recipes and products that offer added values. Products are added to the list if the name of the product describes it, if the manufacturing process is traditional, and if the product is manufactured with traditionally used ingredients. A product must have been used traditionally for at least 30 years before it is considered for registration under the scheme.
Today in Latvia there are six dairy companies producing the traditional "Jāņu siers" cheese that is registered as TSG. They are: "Valmieras piens", "Rankas piens", "Lazdonas piensaimnieks", "Straupe" un "Dundaga", "Jaunpils Dairy".