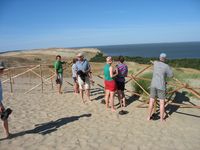 What's special about the nature in Lithuania?
The Curonian spit - a sandy, desert-like stretch of land between the Baltic see and the Curonian Inlet, teh hilly landscapes of the Žemaitija region, the blue mirror labyrinths of the lakes in teh Aukštaitija region, the pine forests in teh Dzūkija region, the curves of the Nemuna river valley, and the many regional nature parks, created not only to protect the nature but also for people's recreation and interest - these are the nature values attracting guests of Lithuania.
You can plan your trip, choosing the nature sites in Lithuania you would like to see, or you can pick from our tour itineraries leading through beautiful protected nature areas.
Act responsibly - follow the Green advice!