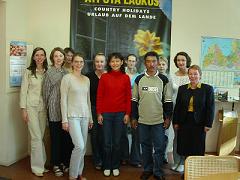 Latvian Country Tourism Association "Lauku ceļotājs" offers consultancies to rural tourism organizations.


How to develop a sustainable rural tourism organisation?
We can answer this question from our hands-on experience. In one decade the Latvian Country Holiday Association "Lauku ceļotājs", originally a 10-member group of rural tourism enthusiasts in post-soviet situation, has grown into a strong, self-sustainable rural tourism organisation with close to 200 members in the beginning of 2003, and is well recognised among European rural tourism community.


Consultancy topics
How to set up a rural tourism organisation
Organisational management
Motivating rural tourism providers
Product development
Product quality requirements
Developing sustainable rural tourism
Promotion & marketing
Cooperation with national institutions
International organisations and cooperation
Fund rising