The Nordic and Baltic Cider Awards (NICA) displays the variety of cider traditions – from the well-recognised to the emerging and promising. The aim of NICA is to promote cider as a great beverage and to enhance contacts and exchange between cider makers in the region striving towards excellence and growth.
The Nordic International Cider Awards is held annually in one of the Nordic and Baltic countries. In 2022, the NICA competition was hosted for the first time in Bergen, Norway, with over 75 cider makers from 11 nations participating and showcasing more than 200 ciders. This year, NICA will be held in Riga as part of "Riga Food 2023", the largest food industry fair in the Baltics.
More information about NICA - PDF printable version.
---
Plese follow us on social networks:

Facebook.com/nica.cider

instagram.com/nicacider/​​​​​​
---
Registration and important dates
End of May – Open for entries
Aug 7 – Entries close
Aug 15 – Registration closes for events
Aug 23 – Bottle delivery deadline
Sept 6 – Competition day
Sept 7 – Award Ceremony & Cider Festival in "Riga Food"
Sept 8 – Seminar and study tour
Sept 9 – Optional study tour
---
Why participate?
• International cooperation, opportunity to discover new markets.
• Promotion of cider as a high-quality national drink in our region.
• International evaluation from other cider makers and cider experts.
• NICA certification and opportunity to obtain a rating internationally.
---
Practical info for NICA competition participants
!!! For participants outside the European Union, before you send bottles, please contact asnate@celotajs.lv for shipping details. Proforma invoice will be different!!!
---
To participants from the European Union:
Sending your cider samples to NICA
Producers are responsible for shipping their samples to Latvia and should cover the cost. Please send the cider samples to the following address (the deadline for receiving the bottles in Riga is August 23, 2023):
"Sidrerija"
Peldu Street 24
Riga, Latvia
LV-1050
Contact details for delivery point in Latvia: "Sidrerija", Elvijs Mētriņš, +37125745299, info@sidrerija.lv
Extra contact details for delivery: Baltic Country holidays, Anna Palelione, +371 22495916, anna@celotajs.lv

Ensure your bottles are packed securely to avoid breakages.

Quantities required:
3 bottles if 750ml or over / per 1 category
4 bottles or cans if 330 ml / 500ml / per 1 category
Maximum of 3 entries per producer.
! NICA cannot be held responsible for bottles that are damaged, broken, or lost during transit. Therefore, we recommend that you obtain appropriate insurance coverage. Please note that we will not return the bottles to you. Also, please ensure that your samples arrive on time, as we will not accept late arrivals. We regret to inform you that we cannot issue credits or refunds in the event that your samples fail to arrive by the deadline.
Proforma specification requirements
All bottles must be accompanied by a predefined Proforma invoice using the template designed by the organisers. This Proforma invoice can be downloaded via below link and must be included with your shipment. When using the sample Proforma invoice, please complete all sections highlighted in yellow.
! Please download ProForma invoice template by clicking here.
Put a copy of the ProForma template on the carton box together with bottles and fill in for each product.

Ensure your ProForma includes the following specifications: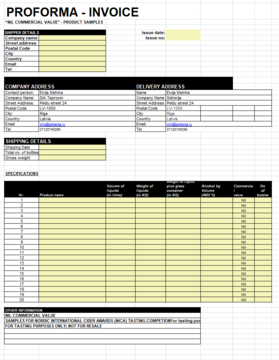 Taste samples, no sales value
Product name
Volume of liquids (in litres)
Weight of liquids (in KG)
Weight of liquid plus glass container (in KG)
Alcohol by volume ABV (%)
No of bottles per type
---
!!! For participants outside the European Union, before you send bottles, please contact asnate@celotajs.lv for shipping details. Proforma invoice will be different!!!
---

For Norvegian participants:
REGISTRER DEG FØR 14 JULI OG FÅ GRATIS TRANSPORT AV FLASKER FRA NORGE
For å gjøre det enklere og billigere for norske produsenter å delta i NICA konkurransen, tilbyr HANEN gratis fellestransport av flasker fra HANEN's kontorer i Oslo til Riga, Latvia. Meld deg på konkurransen innen 14. juli og få gratis transport av flasker fra Norge. Etter en kort sommerpause åpnes resepsjonen på Landbrukshuset igjen og vil kunne ta imot flaskene mellom mandag 31. juli og fredag 11. august. Transport til HANEN-kontoret er for egen regning.
Flaskene kan sendes til adresse nedenfor eller leveres i kontortiden:
HANEN
Landbrukets Hus
Hollendergata 5
0190 Oslo
Tlf: +47 22 05 46 40
Alle flasker vil bli samlet og sendt på pall til Riga i uke 33.
---
Entry fees for NICA (excl. VAT)
REGISTRATION + 1 ENTRY
Flat registration fee - EUR 50
Fee per entry - EUR 25
TOTAL OF EUR 75 (excl. VAT)
REGISTRATION + 2 ENTRIES
Flat registration fee - EUR 50
Fee per 2 entries - EUR 50
TOTAL OF EUR 100 (excl. VAT)
REGISTRATION + 3 ENTRIES
Flat registration fee - EUR 50
Fee per 3 entries - EUR 75
TOTAL OF EUR 125 (excl. VAT)
NOTE:
Maximum of 3 entries per producer.
VAT is automatically included upon payment via Stripe.
Latvian VAT is currently 21%.
The entry fee does not include delivery costs for the sample bottles to a collection point or the provision of any customs duty, taxes, or other costs when samples are sent to Latvia at one's own expense. Entrants are responsible for covering these costs.
Payments
Payment of registration and entry fees can be done via Stripe by card by clicking on one of the payment links below, depending on the number of entries.
!

INSTRUCTION (step by step PDF) for your bottle registration for NICA 2023
!

INSTRUCTION for your bottle registration for NICA 2023
---
NICA CATEGORIES 2023
Please note: all entrants should specify
Sweetness: dry, medium, or sweet
Carbonation: still, petillant, or sparkling
Acid Dominant: ciders made from culinary, dessert, or eating apples, high in acid typical styles include Classic Norwegian cider, New World, Modern ciders, English Eastern Counties Ciders, German Apfelwein would all fit here.

Tannin Dominant: ciders made predominantly from bittersweet or bittersharp cider apples rich in tannins:
traditional West Country style cider
keeved cider produced in the manner of Breton or Normandy ciders
Wood or Barrel-Aged: ciders with a large flavor and/or aroma component from barrels, or wood should be entered here, entrants should specify base style and type of wood or barrel used.

Flavored ciders (hopped / herbed / spiced / botanical cider): ciders that include the addition of other fruits and flavors either as a co-ferment or an addition after fermentation. Ciders made with hops, entrants should specify base style (i.e., bittersweet, acid dominant) hop varieties, and/or herbs/spices used.
Natural cider / sidra natural / Sagardoa: spontaneously fermented ciders with fermentation derived acidity as large components of their flavor and/or aroma. Asturian Sidra Natural, Basque Sagardoa.
Pet Nat, method champanoise, method traditonale: ciders carbonated in bottle, entrants should state the method and base style of cider.
Ice ciders: ciders with a high level of sweetness, and typically a higher-than-average percentage ABV for most other ciders. This is brought about through the freeze concentration, and subsequent controlled fermentation, of apple juice.
Fruit Wines & Perries: fermented alcoholic beverages made from a variety of base ingredients from anything else then grapes or apples; they may also have additional flavors taken from fruits, flowers, and herbs.
Open class: this class contains ciders that do not adequately fit into any other category. The judges will use a combination of the information provided plus their own skill as a cider professional to determine whether each product is a great example of its specialty and its consumer appeal. There are no sweetness parameters for this class.
---
---
! Ciders from Russia and Belarus are not accepted for participation in the competition.