Lauku Celotajs printed publication news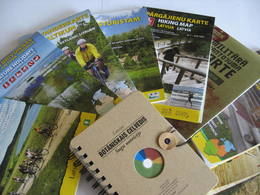 Our publications in English: accommodation catalogue "Country Holidays", maps and travel guides for touring Latvia by car, bike, boating or hiking offer practical information and are most useful to plan and experience your holidays in Latvia. We have inspected all sites and tested all routes which are described. See below the details about contents of each of our publications.
Request our publications by e-mail: lauku@celotajs.lv or telephone: +371 67617600.
---